SwiftUI with John Sundell training
Some of the sessions for this course can be 100% remote
Join John Sundell, creator of Swift by Sundell, for two days full of workshops and training all about SwiftUI. Learn the fundamentals of building apps using Apple's declarative UI framework, how to architect apps using it, and essential techniques for building robust data flows and state management.
The goal of this workshop is to prepare you for either writing new apps completely using SwiftUI, or to start adopting SwiftUI within existing UIKit-based iOS code bases. If you enjoy the Swift by Sundell website, podcast and videos — you'll love these hands-on workshops!
Every SwiftUI update and improvement that will be announced by Apple during WWDC will be included in this training.
This training is organized by Swift Paris Trainings (aka Greg Lhotellier) in partnership with Delicious Insights.
World-renowned expert trainer
Multiple hands-on projects
State-of-the-art tech
Latest best practices
Goals
The SwiftUI training course empowers trainees to:
Get familiar with SwiftUI's various APIs and views.
Learn the fundamentals of SwiftUI-based app development, focused on iOS.
Understand SwiftUI's layout and state management systems.
Explore various architectural patterns and ways of building robust data flows for SwiftUI-based apps.
Curriculum
Introducing SwiftUI

What's SwiftUI?
Differences from previous Apple UI frameworks (UIKit, CoreAnimation…)

Components overview

Built-in SwiftUI components
Built-in SwiftUI views

Layout

How SwiftUI's layout system works
Layout options available

State management

Managing state within a SwiftUI view hierarchy
When to use what layout method?

Bridging the gap between SwiftUI and UIKit

How to bring UIKit-based views into SwiftUI
How to bring SwiftUI-based views into UIKit

View architecture

Architecting and structuring SwiftUI view implementations
When to build reusable components
How to compose views

Data flows

Building increasingly sophisticated data flows between views
Optimizing for maintainability
Optimizing for robustness

Dependency management

Managing dependencies within a SwiftUI-based app
Dependency injection
Next sessions
(Unless otherwise stated, every session has 4+ seats still available, and is in French; you can naturally book custom dates for your company using the link further below.)
Pricing
| You register | Per trainee |
| --- | --- |
| 1 to 2 trainees | €1,300 net |
| 3 to 4 trainees | €1,100 net |
| 5+ trainees | €900 net |
Intended audience and pre-requisites
The training takes place entirely in English, so a sufficient spoken understanding of English is mandatory.
Trainees must also have reasonable experience in developing apps with Swift and developing iOS apps with UIKit, and basic proficiency with Git and command-line tools. We emphasize that this training is not intended for complete beginners, but targeted at people with prior professional experience of app development with Swift and on iOS (not necessarily in the same setting).
Trainees must bring a Macbook capable of running Apple's developer tools with reasonable performance, and have the latest non-beta Xcode installed.
Unless otherwise specified, predefined-dates, multi-client sessions are held in French, so attendees should be reasonably fluent. You are naturally welcome to book custom dates for your company using the link above.
Deliverables
When the training starts, trainees receive all the related slides and supporting material in a web-based format, so they can easily follow along.
Once the training is done, they also get an extremely content-rich debrief e-mail, a reference archive with all finalized codebases (fully annotated and tested), all related slides and various complementary resources.
Logistics
Sessions run 7hr a day, or 4hr12 a half-day, adding up to 14hr, 21hr or 28hr.
Full days run from 9:30 to 12:30 and 14:00 to 18:00, half-days run from 13:48 to 18:00.
(For or U.S. friends, that's 9:30a-12:30p / 2p-6p and 1:38p-6p Paris time, respectively.)
For custom dates booked specifically by your company, the schedule can be adjusted to better suit your needs. In particular, we can use half-days locked on reasonable hours in your timezone, e.g. 9a-12:30p EST or 8a-11:30a PST.
Every trainee uses their own laptop or workstation.

The laptop brought by the trainee must be a Macbook capable of running Apple's developer tools with reasonable performance, and have the latest non-beta Xcode installed.

Training sessions range from 5 to 10 trainees.
You can find all the details and modalities of registration, payment, cancellation and refunding in our Terms of Sale, along with our Conduct Policy.
Trainer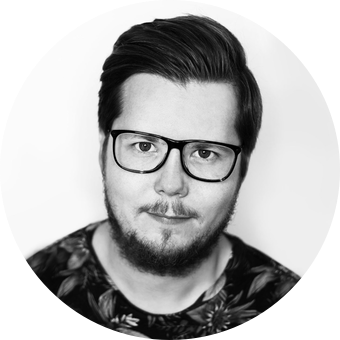 John Sundell
John Sundell is the creator of Swift by Sundell. During the past three years, he's helped over a million developers level up their skills through over 300 freely available articles and podcast episodes, and by speaking at top tech conferences around the world.
With over a decade of professional software development experience, working for companies like Volvo and Spotify — he's now working with several teams of various sizes, to help them improve their skills, their code, and the products that they ship.
His goal is always to help the Swift and iOS developer communities as much as he can, to share his experiences working on all sorts of apps and software products, and to help others get more out of their work as software developers.