Node.js training
Some of the sessions for this course can be 100% remote
First released in 2009, Node.js has completely revolutionized the perception of JavaScript and server-side software infrastructures. Being extremely performant, nice to use, and blessed with a thriving ecosystem and vigorous community, Node.js now boasts numerous top corporate users and large-scale actors along with impressive performance and lots of success stories.
Check out our 2018 edition, significantly overhauled with a focus on producing modern, performant and secure APIs! As always with Delicious Insights, our sessions massively resort to hands-on practice.
ES2017+ (incl. ES0215 modules)
Heart of Node (event loop, streams…)
npm, modules and scripts
MongoDB & Mongoose
Test-rich development
Modern APIs (REST + GraphQL)
Strong security topics
In-house and cloud deployment
Goals
The Node.js training gives you all the keys to best leverage the power of Node.js by professionalizing and industrializing your JavaScript development practices, with a specific focus on the production of high-quality, latest-generation APIs. It empowers trainees to:
know how to install and upgrade Node.js and npm,
search for, install and upgrade Node modules,
work efficiently with Node thanks to a tooling that enables rapid development cycles,
elegantly manipulate complex asynchronous code, notably with the async module and promises,
know and leverage core modules built in Node,
understand and master pivotal aspects of Node such as events and streams,
structure their code using Node best practices, both for the server and client sides,
automatically test their code, both with unit and integration tests,
produce modern APIs, both as REST and GraphQL
Secure their code by following state-of-the-art practices
Please note: the training's source code is entirely in ES2017+.
As you can see, it's not just a "simple" technical training, but truly a complete set of know-hows that not only gives you the keys to immediate productivity, but also equips you with the means to write maintainable, high-quality code that's built to last.
Curriculum
Getting your bearings

Hi Node!

Installation and upgrade methods
Node, a history in 5 minutes
My first program
Running a JS file
A richer example
Shebangs and "executable" files

Node's module system

Configurable modules
Deferred initialization
Built-in modules
Module loaders and alternative syntaxes
Module paths and the nitty-gritty about require

Debugging

With Visual Studio Code
With Google Chrome
A few words on WebStorm et al.
Debugging when using nodemon

Testing

All about automated tests: unit tests, integration tests…
A rich test harness with Jest
Rich assertions with Chai
Mocking methods, objects and modules

npm

Module packaging
Searching for modules
Local installation vs. global installation
Production vs. development dependencies
The end of version conflicts
package.json details

Some core modules

console
process and os
fs and path
util
Global objects
Quick overview of the other core modules

Events

The events module
EventEmitter
Mixing event handling in existing code

Critical skills

Asynchronous programming

Callbacks
"Callback Hell" and "Pyramid of Doom"
Mitigating the issue using proper function declarations
Node-style callbacks
Complex callback combos with async.js
Promises: principles, examples and native support
"Promisified" classic async APIs
async / await

Streams and buffers

Stream types
Stream modes and mode switching
Buffers
Text encodings
Pipelining
Stream all the things!

Key security best practices

Updating Node itself; regular vs. LTS releases
Deprecating risky APIs
npm audit, npm audit fix
Node Security Project
Node Certified Modules
Automatic vulnerability auditing on GitHub
Install scripts
Managing credentials and secrets
Choosing your crypto algorithms wisely
General data storage principles
Third-party attack foiling services

Modern data storage with MongoDB

About NoSQL
Intro to MongoDB
A few words on CouchDB, ElasticSearch, Firebase…
MongoDB's native API
Getting comfier with Mongoose
A quick tour of GUIs (e.g. dbKoda, Robo 3T, Compass)

Developing a REST API

REST principles
Hypermedia
Versions
Content variation
Testing a REST API

Frameworks

Bare Express?
Restify
A few words on Feathers, Fastify, Loopback…

Developing a GraphQL API

A whirlwind tour of GraphQL
Designing a useful schema
Auditing performance
Testing a GraphQL API

Frameworks

Just GraphQL.js?!
Apollo 2
A few words on Prisma et Relay

Securing an API

Request / Query validation
Rate limiting: REST and GraphQL variations
Authentication: tokens or sessions?
About JWT…
Authorization
2FA / MFA
CORS

Deploying an API server

Manually on infrastructure
On PaaS: Heroku, Azure, GCP, Now

Microservices, Serverless and FaaS

Microservices / functions principles
Connectin pooling, message queues, and other concerns
Deploying on FaaS: Azure, GCP, AWS Lambda

Frameworks

Serverless
A few words on Arc, Micro, Seneca, Moleculer…
Next sessions
(Unless otherwise stated, every session has 4+ seats still available, and is in French; you can naturally book custom dates for your company using the link further below.)
Pricing
| You register | Per trainee |
| --- | --- |
| 1 to 2 trainees | €2,000 net |
| 3 to 5 trainees | €1,800 net |
| 6+ trainees | €1,600 net |
| Loyalty discount | €1,700 net |
Need an in-house / custom training?
For a bespoke training, tailored to your needs, either at your office, in ours or remotely, please describe your context and needs using the following link.
Usually, the core training cost for doing this training in-house, which is a flat fee for up to 10 trainees, is €14,000 net. For international sessions with fewer trainees, we can trim that down: talk to us!
Request my in-house / custom training
Intended audience and pre-requisites
A decent knowledge of JavaScript is mandatory; anyone already using JavaScript on a daily basis, ideally beyond just jQuery-based stuff, is likely comfortable enough.
However, trainees might want to "study up" ahead of time to make learning all of this easier once attending the training proper. Future trainees will likely benefit from browsing this list of quality contents Christophe compiled; an ES2015-specific list is also available.
This preparation is also quite desirable for back-end developers who have never worked with JavaScript.
Unless otherwise specified, predefined-dates, multi-client sessions are held in French, so attendees should be reasonably fluent. You are naturally welcome to book custom dates for your company using the link above.
Deliverables
When the training starts, trainees receive all the related slides and supporting material in a web-based format, so they can easily follow along.
Once the training is done, they also get an extremely content-rich debrief e-mail, a reference archive with all finalized codebases (fully annotated and tested), all related slides and various complementary resources.
Logistics
Sessions run 7hr a day, or 4hr12 a half-day, adding up to 14hr, 21hr or 28hr.
Full days run from 9:30 to 12:30 and 14:00 to 18:00, half-days run from 13:48 to 18:00.
(For or U.S. friends, that's 9:30a-12:30p / 2p-6p and 1:38p-6p Paris time, respectively.)
For custom dates booked specifically by your company, the schedule can be adjusted to better suit your needs. In particular, we can use half-days locked on reasonable hours in your timezone, e.g. 9a-12:30p EST or 8a-11:30a PST.
Every trainee uses their own laptop or workstation.
Training sessions range from 3 to 10 trainees.
You can find all the details and modalities of registration, payment, cancellation and refunding in our Terms of Sale, along with our Conduct Policy.
Trainer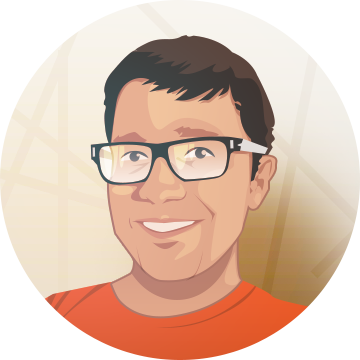 Christophe Porteneuve
Christophe has been doing professional web work since 1995. He co-created Europe's first production JSP portal in 1999, moving to J2EE before going with Ruby, Rails and finally Node.js.
A best-selling author of"Bien développer pour le Web 2.0" ("Best practices for modern web development") at Eyrolles, he also wrote the reference book "Prototype and script.aculo.us" at Pragmatic Programmers, articles in various online magazines (most notably the widely-acclaimed A List Apart), and speaks at a number of conferences big and small.
In France, Christophe enjoys a solid reputation of expertise in the areas of front-end web dev (most notably JavaScript), Node.js, Git and Rails.
Christophe is the founder and CTO of Delicious Insights.
Testimonials
Amazing training. The trainer's ability to track down the origin of a bug near-instantly is quite mind-blowing! Every course item is taught with brio. […] Writing a whole app from scratch, just like the 360° JS training course, feels fantastic.

An excellent, crystal-clear, precise and most useful training course. The pace is quite strong, so you must hang on a bit as we go through a large number of concepts, but the trainer is really good at imparting his knowledge and efficiently teaching all this.

The cost/quality ratio is a real steal, even as a freelancer (with no financial incentive or tax break of any kind).

A truly pleasant experience, with lots of laughs, much food for thought and great lunches! You come out of this confident and reassured, eager to put all your newfound skills intro practice. I know this sounds very much like a marketing pitch, but I can't recommend this training enough 😊

This training is truly great and ahead of the competition. The trainer has outstanding teaching skills, and the pace is perfect. I recommended this class a lot around me already.

You don't just walk out of this with a better understanding of Node.js, but also a clearer view of the tooling and real-world production use around it. Factor in the great location (Paris 11st), a lovely venue and an excellent trainer, and you'll have the perfect blend for a content-rich training you won't regret.

Boosted my learning curve by taking me to many places I hadn't ventured in yet… Node.js runs impeccably… This is just the beginning of the journey… The ecosystem is amazing… All my expectations were met… Node.js is definitely the next big technological leap!

A very promising tech… Great technical quality… Fantastic modules… Very beneficial to any web project… All the pieces finally click into place… The training is very thorough and made sense of everything… Discovering Node is truly an energy boost to me as a developer…

An efficient and relevant Node.js training, I came out feeling I had made a leap towards tomorrow's technologies.

I heartily recommend this training. But don't go there unprepared: you'll get a truckload of knowledge. Great content, outstanding trainer, an an environment honed for efficient learning.