360° ES training
Some of the sessions for this course can be 100% remote
The 360° ES training is the only course out there covering 100% of JavaScript's latest generation features. It was designed to address the trainees that now and then came to us saying something like "I love the first day of your Node.js / Modern Web Apps courses, and your conference talks, but what I'm really yearning for is in-depth mastery of the latest features in the language, however niche or obscure".
Delicious Insights enjoys a solid reputation of expertise on ECMAScript (JavaScript), and we love working with the under-used power of the language, so it only seemed natural to create a training course targeting trainees that want to become their entourage's absolute go-to person for JS.
Thus was 360° ES born (the inevitable name of which finally triggered the long-deferred rebranding of 360° JS, now Modern Web Apps). In this course, you won't find a single language aspect uncovered, not a single edge-case left aside... and not only do we cover the language's latest version, we even explore what's coming in the few next years! You're in for three super-dense days: par for the course at DI.
100% up-to-date language coverage
Metaprogramming
Edge cases
Niche aspects
Interactive exercices
Hidden powers
Upcoming features
Trainer contributes to JavaScript
Goals
The 360° ES training aims to empower trainees to:
Master 100% of latest-generation JavaScript
Improve their code's maintainability and expressiveness
Write more idiomatic JS code
Get the most out of the language's latest features
Leverage metaprogramming to reduce code quantity
Use advanced techniques to improve code security
Curriculum
Syntactic sugar and comfort

Shorthand notations
Class syntax
Destructuring
Rest and Spread
Default values
Template strings (regular and tagged)
Trailing commas
Function autonaming

Scope and binding

Block scopes with let and const
Arrow functions

Iterability

Iterables
for…of
Generators

Numerical literals

Binary and octal
Number vs. parseInt / parseFloat
What's coming post-ES2018…

Standard library

Lots of new stuff in the stdlib
Sets and Maps
Typed arrays and buffers

Unicode++

Unicode, why?
Extended Unicode support
A word about ES402
Coming soon...

Async programming

A few reminders
Promises
async / await

ES Modules

Where we come from
Imports, exports, live bindings and load semantics
Dynamic imports
Native support and transpiling
Best practices

Symbols

Basics
Customizing native behavior

Proxies

Goals and principles
Traps and the Reflect API
Concrete examples
Revocable proxies
Next sessions
(Unless otherwise stated, every session has 4+ seats still available, and is in French; you can naturally book custom dates for your company using the link further below.)
Pricing
| You register | Per trainee |
| --- | --- |
| 1 to 2 trainees | €1,500 net |
| 3 to 5 trainees | €1,350 net |
| 6+ trainees | €1,200 net |
| Loyalty discount | €1,275 net |
Need an in-house / custom training?
For a bespoke training, tailored to your needs, either at your office, in ours or remotely, please describe your context and needs using the following link.
Usually, the core training cost for doing this training in-house, which is a flat fee for up to 10 trainees, is €9,000 net. For international sessions with fewer trainees, we can trim that down: talk to us!
Request my in-house / custom training
Intended audience and pre-requisites
The 360° ES training targets first and foremost developers who already have a solid JavaScript experience, and wish to gain in-depth mastery of all language aspects, including the most advanced ones.**
A regular practice of JavaScript in actual operational contexts is mandatory, ideally using ES2015+. On the other hand, there is no need whatsoever to already use the language's more advanced facets (such as custom iterators, proxies, generators, weak maps, etc.): this is what this training is for!
Unless otherwise specified, predefined-dates, multi-client sessions are held in French, so attendees should be reasonably fluent. You are naturally welcome to book custom dates for your company using the link above.
Deliverables
When the training starts, trainees receive all the related slides and supporting material in a web-based format, so they can easily follow along.
Once the training is done, they also get an extremely content-rich debrief e-mail, a reference archive with all finalized codebases (fully annotated and tested), all related slides and various complementary resources.
Logistics
Sessions run 7hr a day, or 4hr12 a half-day, adding up to 14hr, 21hr or 28hr.
Full days run from 9:30 to 12:30 and 14:00 to 18:00, half-days run from 13:48 to 18:00.
(For or U.S. friends, that's 9:30a-12:30p / 2p-6p and 1:38p-6p Paris time, respectively.)
For custom dates booked specifically by your company, the schedule can be adjusted to better suit your needs. In particular, we can use half-days locked on reasonable hours in your timezone, e.g. 9a-12:30p EST or 8a-11:30a PST.
Every trainee uses their own laptop or workstation.

No ahead-of-time setup on your machine is necessary.

Training sessions range from 3 to 10 trainees.
You can find all the details and modalities of registration, payment, cancellation and refunding in our Terms of Sale, along with our Conduct Policy.
Trainer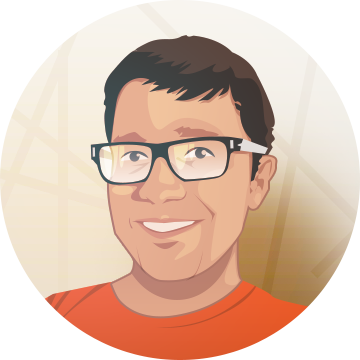 Christophe Porteneuve
Christophe has been doing professional web work since 1995. He co-created Europe's first production JSP portal in 1999, moving to J2EE before going with Ruby, Rails and finally Node.js.
A best-selling author of"Bien développer pour le Web 2.0" ("Best practices for modern web development") at Eyrolles, he also wrote the reference book "Prototype and script.aculo.us" at Pragmatic Programmers, articles in various online magazines (most notably the widely-acclaimed A List Apart), and speaks at a number of conferences big and small.
In France, Christophe enjoys a solid reputation of expertise in the areas of front-end web dev (most notably JavaScript), Node.js, Git and Rails.
Christophe is the founder and CTO of Delicious Insights.