Webpack training
At last, a training course that goes beyond the well-known basics of Webpack!
In just a couple years, Webpack has risen to become the must-know bundler, mostly thanks to its peerless abilities of fine-tuned optimization, as well as its innovative Hot Module Replacement system. It is now at the heart of most web project scaffolders, recent tutorials, etc.
However, it is all too easy to be intimidated, or outright fended off, by the sheer volume of its features and capacities, the mess that used to be its documentation, and the sometimes contradictory information found online. This training exists to change that, and provide trainees with rock-solid understanding of the tool and its behavior, with emphasis on performance: developer performance, building performance, and bundle performance within the webapps that use them.
Step-by-step discovery
All the classic use cases
Maintenable setup
Composable configuration
Optimal DX
Fine-grained optimizations
Advanced customizations
Tons of exercices and practice
Goals
The Webpack training aims to empower trainees to:
gain in-depth understanding of Webpack's architecture
embed any type of resource in their builds
maximize their productivity by optimizing incremental builds
finetune their web apps' startup time with careful optimization
extend Webpack to address their in-house needs
Curriculum
First steps

Core concepts
Handling JavaScript
Handling styles
Handling images
Handling fonts
Other usual sources
Adjusting for production bundling

Maintaining your configuration

webpack-merge
Splitting configuration into parts
Various approaches to configuration splitting

Optimizing the developer experience

Making the most out of the development server
Embedding into our own servers
Hot Module Replacement
Plugins and useful wrappers

Optimizing the building performance

Transpiling only what's needed
Restricting what loaders look at
Caching loader results
Picking appropriate sourcemaps
Externalizing third-party code with externals
Parallelizing the build
Parallelizing some loaders
DllPlugin and DllReferencePlugin

Optimizing the bundle's performance

Optimizing file count and sizes
Optimizing caching
Bundle splitting
Code splitting
Analyzing bundle performance
Producing a library rather than an app

Webpack + React

During development
In production

Customizing Webpack

Subtle configuration tweaks
Next sessions
(Sauf indication contraire, chaque date dispose d'au moins 4 places encore libres)
Pricing
| You register | Per trainee |
| --- | --- |
| 1 to 2 trainees | €1,500 net |
| 3 to 5 trainees | €1,350 net |
| 6+ trainees | €1,200 net |
| Loyalty discount | €1,275 net |
Intended audience and pre-requisites
The Webpack training mostly targets web developers and Dev Ops.
Prior knowledge of JavaScript, even cursory knowledge, is mandatory. Prior experience of other build / bundling tools is a bonus but by no means mandatory. No prior knowledge of Webpack is required.
Deliverables
When the training starts, trainees receive all the related slides and supporting material in a web-based format, so they can easily follow along.
Once the training is done, they also get an extremely content-rich debrief e-mail, a reference archive with all finalized codebases (fully annotated and tested), all related slides and various complementary resources.
Logistics
The training takes place in a private, commodious, well-lit, air-conditioned room with great functionality and ample comfort. All our venues are easily accessible by public transit and wheelchair-accessible.
Located in Paris, near Nation, they can be reached through no less than 5 subway lines, 1 RER line and 5 bus lines:
Philippe-Auguste

or

Alexandre Dumas
Charonne

or

Rue des Boulets

Faidherbe-Chaligny

Nation

Nation

Charonne-Voltaire

or

Boulets-Montreuil

Charonne-Philippe-Auguste
Delicious Insights
83 avenue Philippe-Auguste
75011 Paris
See on Google Maps
You can also find a number of parking areas nearby.
Every trainee brings their own laptop or workstation.
Internet access is provided through a broadband connection. Training rooms offer a Wi-Fi access and, for the oddball situation, a wire-based Ethernet infrastructure.
Not living in the Paris area and looking for lodging? Why not go with Airbnb? They even have a business offering.
Training sessions range from 4 to 10 trainees.
---
Typical daily schedules for the training, for a daily total of 7 hours hence a total of 21hr of training, are:
9h45

Welcome, breakfast (hot and cold beverages, French pastries)

10h

Training starts

12h30

Lunch (included)

13h45

Training resumes

16h15

Break

16h30

Training resumes

18h

Day close
You can find all the details and modalities of registration, payment, cancellation and refunding in our Terms of Sale, along with our Conduct Policy.
---
Our main venue, for multi-client trainings (click to zoom):
Trainer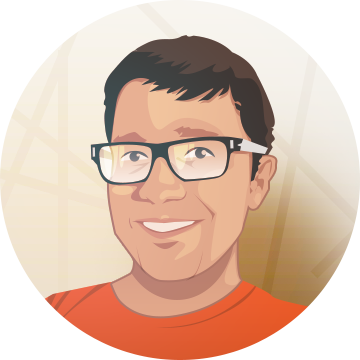 Christophe Porteneuve
Christophe has been doing professional web work since 1995. He co-created Europe's first production JSP portal in 1999, moving to J2EE before going with Ruby, Rails and finally Node.js.
A best-selling author of"Bien développer pour le Web 2.0" ("Best practices for modern web development") at Eyrolles, he also wrote the reference book "Prototype and script.aculo.us" at Pragmatic Programmers, articles in various online magazines (most notably the widely-acclaimed A List Apart), and speaks at a number of conferences big and small.
In France, Christophe enjoys a solid reputation of expertise in the areas of front-end web dev (most notably JavaScript), Node.js, Git and Rails.
Christophe is the founder and CTO of Delicious Insights.